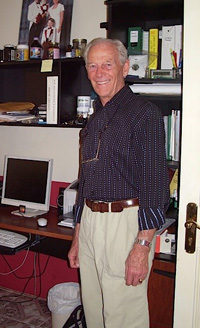 Meet Dr Carsen Tannberg (Chiropractor)
Trying the Chiropractic Way
I began my studies in chemistry and pharmacology in preparation for a medical career in  Germany. Following a motor vehicle accident, I was unable to walk and was told that I needed spinal surgery.  I was not open to the idea because I knew the outcomes weren't always successful back then. I decided to give chiropractic a go. After several weeks of being bedridden, I was able to walk again.  When I was able to walk again without pain, I decided to study chiropractic to be able to help others with back pain problems.
Continuing to Learn
Dr Carsen (Chiropractor) attended Palmer College of Chiropractic in Davenport, Iowa and graduated in 1968. He interned and later became an associate at the Pettibon Research Center in Tacoma, Washington. Dr Carsen (Chiropractor) then returned to Canada, practising chiropractic for 10 years in his own clinic in Calgary, Alberta.
To further his knowledge in the field of natural health, he decided to also study naturopathic medicine and graduated in 1979 from the College of Naturopathic Medicine in Mesa, Arizona.
In 1987 he moved with his wife Airynaa and son to Australia, and established the Corrimal Family Chiropractic Centre in Corrimal, NSW.
Explore Chiropractic Care
Professional Associations
The Chiropractic Association of Australia (CAA)
The Australian Traditional Medicine Society (ATMS)
The World Chiropractic Alliance (WCA)

Dr Carsen Tannberg (Chiropractor) | (02) 4284 8009