New Patients at Corrimal Family Chiropractic Centre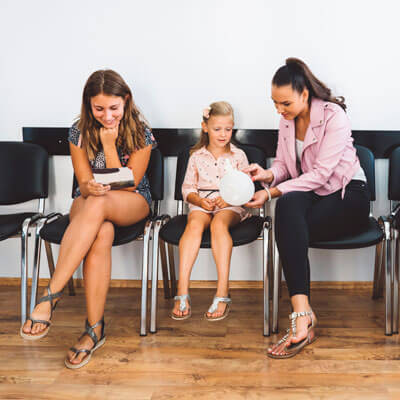 You're warmly welcomed by our friendly staff into our modern clinic. The comfortable, relaxing environment we offer will put you right at ease.
The First Visit
Your first visit starts with a consultation and physical examination. We'll listen carefully to understand your problem(s). Based on our findings we may suggest that our next step is to get x-rays taken at no cost to better evaluate your condition.
Then you'll be scheduled for your second visit.
The Second Visit
On your second visit, you bring the requested x-rays with you.  We review the x-rays and reports and explain our findings to you.   If it is safe to proceed we will then adjust you chiropractically and/or use laser therapy.
Regular Visits
Based on the symptoms that you presented with, your examination and x-ray reports, a treatment program can be implemented to move you to better health as soon as possible.
Continuing to Learn
Many educational materials are available in our practice. We have DVDs and CDs that our patients can use to get more information about chiropractic, living a more balanced and natural life, how to cleanse your body or how to improve and maintain your vitality. These are given to you at no charge so you can educate yourself on taking care of your body.
Are you ready to take the next step for your health? Call our office today. (02) 4284 8009

New Patients at Corrimal Family Chiropractic Centre | (02) 4284 8009